Illinois Select Society of Sanitary Sludge Shovel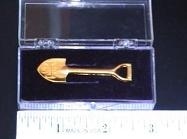 An IWEA members may be awarded the "Golden Shovel" by serving the Association as Committee Members or Chairs over a period of years. They may be on multiple committees for a short term or one committee for a decade. The bottom line is service and support of IWEA goals and programs.
I5S members are nominated by the standing group of shovelers. Shovels are award at the IWEA Annual Banquet.
The pH 7 Inflow Regulator manages the program and awards the shovels. Past Regulators include Jerry Reynolds, Don Ohrt, Greg Brunst, and Greg Garbs (current.)

I5S MEMBERS
| Year | Shoveler | Membership Type |
| --- | --- | --- |
| 2019 | Alice Ohrtmann | Member |
| 2019 | Ryan Christopher | Member |
| 2019 | Tom Kunetz | Honorary |
| | | |
| 2018 | Daniel Small | Member |
| 2018 | Michael Lutz | Member |
| 2018 | Eileen O'Neill | Honorary |
| | | |
| 2017 | Bernie Held | Member |
| 2017 | Lee Melcher | Member |
| 2017 | Peter Vanrolleghem | Honorary |
| | | |
| 2016 | Peter Lynch | Member |
| 2016 | Carlee Scharnhorst | Member |
| 2016 | Jackie Jarrell | Honorary |
| | | |
| 2015 | Cheryl Kunz | Member |
| 2015 | Eric Berggren | Member |
| 2015 | Thomas Kunetz | Member |
| | | |
| 2014 | Dan Collins | Member |
| 2014 | Fred Wu | Member |
| 2014 | Jenny Hartfelder | Honorary |
| | | |
| 2013 | Tom McSwiggen | Member |
| 2013 | Kendra Sveum | Member |
| 2013 | Scott Trotter | Honorary |
| | | |
| 2012 | Laurie Riotte | Member |
| 2012 | Rebecca Rose | Member |
| 2012 | John Hart | Honorary |
| | | |
| 2011 | Daniel Bounds | Member |
| 2011 | Krishna Pagilla | Member |
| 2011 | Paul Bowen | Honorary |
| | | |
| 2010 | Tom Granato | Member |
| 2010 | Lou Storino | Member |
| 2010 | Rebecca West | Honorary |
| | | |
| 2009 | Mark Termini | Member |
| 2009 | Debra Ness | Member |
| 2009 | Adam Zabinski | Honorary |
| | | |
| 2008 | Al Hollenbeck | Member |
| 2008 | Kam Law | Member |
| | | |
| 2007 | Mark Halm | Member |
| 2007 | Linda Smith-Vargo | Member |
| 2007 | J. Michael Read | Honorary |
| | | |
| 2006 | Kathy Cooper | Member |
| 2006 | Greg Garbs | Member |
| 2006 | Lynn Orphan | Honorary |
| | | |
| 2005 | Amanda Withers | Member |
| 2005 | Dennis Priewe | Member |
| 2005 | Lawrence Jaworski | Honorary |
| | | |
| 2004 | Eliana Brown | Member |
| 2004 | Sam McNeilly | Member |
| 2004 | Robert McMillon | Honorary |
| | | |
| 2003 | Shirley Burger | Member |
| 2003 | Anthony Bouchard | Member |
| 2003 | Erwin Odeal | Honorary |
| | | |
| 2002 | Louis Kollias | Member |
| 2002 | John Lamb | Member |
| 2002 | James Clark | Honorary |
| | | |
| 2001 | Charlie Williams | Member |
| 2001 | Russell Baker | Member |
| 2001 | Joseph Stowe | Honorary |
| | | |
| 2000 | Terry Jenkins | Member |
| 2000 | John Drake | Member |
| 2000 | Rhonda Harris | Honorary |
| | | |
| 1999 | Laura McGovern | Member |
| 1999 | Mary Johnson | Member |
| 1999 | Dale Jacobson | Honorary |
| | | |
| 1998 | Fredrick Dale | Member |
| 1998 | Prakasam Tata | Member |
| 1998 | Albert Goodman | Honorary |
| | | |
| 1997 | Jay Patel | Member |
| 1997 | Andrew Ftacek | Member |
| 1997 | Stanton LeSieur | Honorary |
| | | |
| 1996 | Tim Zook | Member |
| 1996 | Pat Schatz | Member |
| 1996 | Michael Pollen | Honorary |
| | | |
| 1995 | Robert Brummond | Member |
| 1995 | Norm Rose | Member |
| 1995 | Billy Turner | Honorary |
| | | |
| 1994 | Richard Helm | Member |
| 1994 | Phillip Gerwert | Honary |
| | | |
| 1993 | Gayle O'Neill | Member |
| 1993 | Tim Kluge | Member |
| 1993 | Charles Sober | Honary |
| | | |
| 1992 | Herbert Anderson | Member |
| 1992 | Richard Schultz | Member |
| 1992 | Charles Kaiser | Honary |
| | | |
| 1991 | Michael Botts | Member |
| 1991 | Lloyd Lamberton | Member |
| 1991 | Charles Muchmore | Member |
| 1991 | Roger Dolan | Honary |
| | | |
| 1990 | Abbott Burton | Member |
| 1990 | David Sullivan | Member |
| 1990 | Arthur Saarinen | Honary |
| | | |
| 1989 | Richard Eick | Member |
| 1989 | Greg Cargill | Member |
| 1989 | Beth Turner | Honary |
| | | |
| 1988 | Charles Corley | Member |
| 1988 | Donald Harper | Member |
| 1988 | James Abbott | Honary |
| | | |
| 1987 | Gregory Brunst | Member |
| 1987 | J. Mark Crump | Member |
| 1987 | Larry Ziemba | Member |
| | | |
| 1986 | William Munch | Member |
| 1986 | Theodore Denning | Member |
| 1986 | Don Ort (deceased) | Member |
| 1986 | Carl Huber | Member |
| | | |
| 1985 | Tim Bachman | Member |
| 1985 | David Zenz | Member |
| 1985 | Robert Klausegger | Member |
| 1985 | Henry Schwartz | Honary |
| | | |
| 1984 | Robert Randolph | Member |
| 1984 | Toby Duckett | Member |
| 1984 | Raymond Rimkus | Member |
| 1984 | Harry Tow | Honorary |
| | | |
| 1983 | Larry Hughes | Member |
| 1983 | Gregory Maxwell | Member |
| 1983 | Harris Chien | Member |
| 1983 | Earnest Gloyna | Honorary |
| | | |
| 1982 | Edward Marek (deceased) | Member |
| 1982 | Harold Goldsmith | Member |
| 1982 | John Pfeffer | Member |
| 1982 | Jack Newbould | Honorary |
| | | |
| 1981 | Jeremiah Reynolds | Charter |
| 1981 | Paul Clinebell | Charter |
| 1981 | Ralph Pfister | Charter |
| 1981 | Hugh McMillan (deceased) | Charter |
| 1981 | John Forneris (deceased) | Charter |
| 1981 | Lawrence Madden | Charter |
| 1981 | George Stevens | Charter |
| 1981 | Miles Lamb | Charter |
| 1981 | Carl Wright | Charter |
| 1981 | Ralph Evans | Member |
| 1981 | William Busch | Member |
| 1981 | Edward Rubin | Member |
| 1981 | George Hankammer | Member |
| 1981 | Leo Rehm (deceased) | Member |
| 1981 | Kenneth Watson (deceased) | Member |
| 1981 | Charles Jones | Honorary |